"I want to raise the alarm about the increasing and intensifying violence against them. I am extremely appalled by the number of killings and attacks and the lack of response from states in front of such situation".
These harsh words mark the beginning of the report presented by Michel Forst, the UN Special Rapporteur on the situation of human rights defenders, to the United Nations Human Rights Council in 2016.
Evidence suggests that Latin America is the most hostile region for environmental defenders in the world, followed by Asia and Africa. Six of the 10 most dangerous countries for leaders and communities defending the environment and their ancestral lands cited by Forst are located in our region, all of which (Brazil, Colombia, Guatemala, Honduras, Peru and Mexico) have been involved in this journalism project. 48% of the communications sent by the UN rapporteur to governments have been about cases in the region.
We spoke with Forst -a soft-spoken but forceful French diplomat and former Amnesty International regional director- about the risks run by environmental leaders in Latin America.
WHY ARE ENVIRONMENTAL DEFENDERS IMPORTANT AND WHAT IS THEIR VALUE FOR SOCIETY?
When I started with this mandate, I wanted to meet with defenders to find those who are most at risk. I organized a series of consultations in which I met more than 800 defenders from 110 countries. Two of these were in Latin America: one in Bogota and one in Guatemala City. I immediately saw that those defenders were in fact the most at risk: fighting for the right to defend their land, fighting with powerful actors like companies, receiving threats from different sources.
When I saw the number of killings, I saw we could do more to prevent this from occurring. That's why I decided to tackle this subject and to prepare a report that was presented at the United Nations two years ago with the idea of finding who are those actors, who are the perpetrators and with which means we can protect them.
WAS YOUR 2016 REPORT ONE OF THE FIRST TO CALL THEM 'ENVIRONMENTAL HUMAN RIGHTS DEFENDERS'?
In the course of my discussions with them, I saw many did not consider themselves defenders. They said 'we are environmentalists', 'we are indigenous people', 'we are simple peasants or farmers', but they did not know the full concept of defenders.
I tried to explain why for me they were in the broad category of defenders. It's amazing to see how the more we discussed it with them, the more they understood it and the more they feel part of a global community of defenders, which is for me a key element for their protection.
SADLY OUR PROJECT COVERS FIVE OF THE 10 MOST HOSTILE COUNTRIES MENTIONED IN YOUR REPORT. HOW CONCERNED ARE YOU OVER VIOLENCE AGAINST DEFENDERS IN LATIN AMERICA?
I'm very concerned about it. I've done three official visits at the invitation of states in the region: Mexico, Honduras and Colombia. On each occasion I have met defenders at risk, I explain to them what I want to achieve and why it is important to find ways to protect them by speaking not only to the states, but also by engaging with actors such as transnational companies operating in the region.
I see that more and more those actors want to also engage with me, because they don't want their names to be named in a UN report. These same companies appear in many reports: take the recent NGO report by Global Witness. Even if they are named, I wouldn't say companies don't care, but there's no official reaction from them. They may say 'It's an NGO report, they're biased'.
But why is a UN rapporteur doing investigations on individual cases and naming names of perpetrators? They become more anxious and say they want to speak to me. The good thing is that other UN rapporteurs, like John Knox (for the environment) and Victoria Tauli-Corpuz (for indigenous peoples), are also working on cases like these. The attention of the international community is increasing to support defenders and communities.
ONE OF THE STARKEST CONCLUSIONS OF YOUR REPORT IS THAT ATTACKS ARE BOTH INCREASING AND INTENSIFYING. IS THIS THE CASE IN LATIN AMERICA?
It is. As you speak to victims and their families, you see there is an increasing number of attacks, but also that companies are finding new means to target individual defenders, including sometimes using sicarios to kill them.
What is striking for me is that in the past you had random violence by which they would attack all those who are very public or vocal about situations. And now you see it's obvious that companies are targeting those who are the more vocal or iconic, like Berta Cáceres (in Honduras) or Isidro Baldenegro in Mexico, to instill fear amongst the communities and saying 'Although those people were well known, recognized and protected by prestigious awards, we were able to kill them. So take care: you may be killed as we have killed Berta and Isidro'.
ARE PREVENTIVE MEASURES TAKEN BY LATIN AMERICAN COUNTRIES WOEFULLY LACKING OR INEFFECTUAL?
I would not say so. I would say they mitigate or alleviate the risks that defenders face. But for me, it's clear that despite the fact that you may have four bodyguards, a bullet-proof jacket or an armored car, if you want to kill someone, you always find ways to kill them.
For countries like Colombia, Mexico or Honduras these mechanisms are a way to show that defenders are under protection. But if you speak with the victims or their families, they will tell you how bodyguards don't want to work in places in which they cannot live normally, how they don't receive their per diems and refuse to provide protection, how armored cars are not able to travel on the roads where those defenders operate so they're left helpless.
Those means are a way to protect defenders on a certain level, but we are still seeing an increasing number of killings.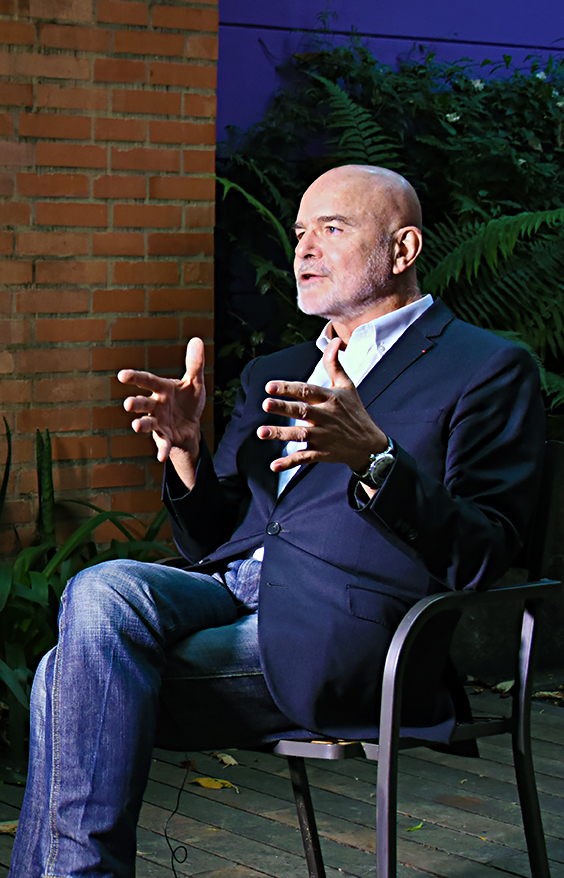 WOULD YOU SAY THAT IMPUNITY MAKES IT EASIER FOR PERPETRATORS TO ACT?
Yes, higher rates of impunity facilitate attacks on defenders. In Latin America you see that out of 100 killings, you have investigations in maybe five cases and only two of them go to justice. In most cases it's only the killers: those who are behind the scenes and activate the sicarios -the masterminds- never go to justice.
Attorneys generals usually claim they are doing the utmost. We say, "yes, but what about the mastermind?" They don't have an answer. And in many cases the masterminds are companies, in collusion with actors like senators, members of Congress or ministers.
DO YOU SEE THAT INDIGENOUS COMMUNITIES ARE ESPECIALLY VULNERABLE TO THESE ATTACKS?
I would say so, because the Earth -the forests, the lakes, the mountains- belong to these ancestral communities. And those are the places in which now you see many companies operating, sometimes with the complicity of the states.
When you speak to these communities, they tell you that although the right to consultation is recognized by law in many countries, not everyone is invited or companies find ways to divide and rule to gain the support of a majority that says 'yes' to a project, even though if you investigate the real majority would say 'no'.
YOU MENTION IN YOUR REPORTS THAT IN MANY COUNTRIES -AND YOU PROBABLY INCLUDE LATIN AMERICA HERE- THERE IS A CERTAIN TENSION BETWEEN COMMODITY-DRIVEN ECONOMIC PLANNING AND THE LONG-TERM VISION THAT LOCAL COMMUNITIES HAVE ABOUT THEIR SURROUNDINGS.
That's part of the problem and we don't have a solution. For me, clearly a community should have the right to say 'No, we don't want this contractor'.
We have concrete examples on the dilemmas posed by the possibility of communities saying 'no' to projects. There was an Italian company operating in Africa -I don't want to name any names- with whom we discussed the idea of being more transparent and having a protocol by which they would consult a large part of the country affected by their project. They sent mediators to explain what the benefits would be, but at the end of the day the local community decided to say 'no'. The company said "We have to respect this decision" and withdrew. What happened? A Chinese company came, which was more dangerous for the community. Part of the dilemma is how we can reach companies who are not part of the same systems, like OECD, and find ways to bring them into the broader discussion of how to better respect the rights of communities.
GIVEN THIS SITUATION, HOW CAN COUNTRIES FOSTER A SAFER ENVIRONMENT FOR DEFENDERS?
We're trying to find recommendations that could be useful for states and we do have some who are already doing more to control the behavior of companies and make sure they do no harm in countries where they operate.
One of the most iconic examples is Canada, whose companies are some of the most dangerous actors in Latin America. But you also see the new administration of Canada taking new measures to control them: you have guidelines that allow embassies to talk to defenders with a specific chapter dedicated to Canadian companies operating abroad. They're not mandatory, but it's an encouragement. And you do see now some companies trying to change their behavior and establishing protocols to consult more broadly and in-depth with communities affected by projects.
Canada also decided to establish a new mechanism: they now have a special Ombudsperson for Responsible Enterprise whose duty is to receive complaints from indigenous people, farmers and local communities affected by Canadian companies abroad. We need to monitor all of this, but it's an attempt by one country to be more effective.
You also have countries like France or the UK passing new laws on due diligence, which is another trend towards finding more effective ways to protect defenders.
ARE YOU SEEING NEW PATTERNS OF AGGRESSIONS OR ACTORS? IS THE SITUATION EVOLVING IN ANY WAY?
It's complicated, but I don't see new actors. We see the same patterns: for example, companies contracting security forces or sometimes even local police, so they become their guards, which is a collusion between private and public interests.
We are trying to do new things to put pressure on these actors. One of these, which for me is very effective, is to use the same means we use with states: when we are informed of the possible implication of companies in attacks against defenders, I send them what I call an allegation letter in which I simply ask questions. I say to them "I've been informed that in such place your company may have been involved in an attack against a defender. Could you clarify these five questions by letter?" and then both the letter and the response become public. Because these companies don't want their names to be named in the report, you see them sending hundreds of pages of information through their lawyers and asking for a meeting with me.
My next report, which will be presented in Geneva, will name a few companies to put pressure on them and show others that it might happen to them.
HAVE YOU SENT MANY OF THESE LETTERS IN LATIN AMERICA?
Latin America has been one of the targets, yes. What I want is to see if they will change. In fact, I send four letters: one to the government of the country where the company is located, one to the company headquarters, one to the local government and one to the company operating in the country. It's a way to put pressure on many actors together.
WHAT CAN BE DONE WHEN THIS VIOLENCE HAPPENS IN PLACES WHERE PROJECTS ARE PARTLY OR COMPLETELY FUNDED BY INTERNATIONAL FINANCIAL INSTITUTIONS?
We're also speaking to these agencies like the World Bank or regional ones like the Inter-American Development Bank. We see that some of them are really receptive to our communications and have even withdrawn from projects they had decided to fund, citing that this state is not respecting the provisions of the funding agreement. It's a leverage for us.
ARE THESE INSTITUTIONS MODIFYING THEIR POLICIES AND ELEVATING THEIR STANDARDS FOR PROJECT SELECTION AND FUND ALLOCATION?
Yes, it's the case with the European Union, the Inter-American Development Bank or the World Bank: we are discussing with all of them what we can do together to be more effective.
One question we have discussed is the issue of how to protect whistleblowers who can disclose information on, for example, collusion between members of Parliament or ministers with those companies. Especially those whistleblowers inside the institutions who receive information, want to go public and could face reprisals from those actors.
WE'VE SPOKEN ABOUT LEGAL COMPANIES, BUT ILLEGAL ACTORS ASSOCIATED ILLICIT BUSINESSES LIKE MINING OR LOGGING ARE ALSO TARGETING ENVIRONMENTAL DEFENDERS.
It's something you see in many countries in Latin America and it's something I have recommended the Government of Colombia, for example, to look into. I haven't done any investigation into illegal actors, because my focus is on transnational companies.
DO YOU FIND FACTORS OF OPTIMISM IN LATIN AMERICA FOR DEFENDERS?
In each country you see solutions, developed by either states themselves, by individual institutions of states or from other actors like local NGOs, international organizations or embassies.
To be more concrete, in the case of Colombia I have been struck by the work done by the Ombudsman's Office, a strong institution that -local communities tell you- is one place where they can seek support or information, or complain about attacks against them. In Mexico, you have a strong National Commission of Human Rights, which is also a key actor for defenders. That's why, when I see in countries like Honduras weak institutions, I try to push the state to strengthen them, which is a way to support to defenders.
AN IMPORTANT PART OF LATIN AMERICA IS BEGINNING TO IMPLEMENT THE ESCAZÚ AGREEMENT, A REGIONAL PACT INCLUDING SEVERAL KEY PROVISIONS FOR ENVIRONMENTAL DEFENDERS. ARE YOU OPTIMISTIC THAT THINGS COULD IMPROVE?
Very much. I have pushed states to ratify this new instrument. In Colombia, where I was just on an official visit, this was one of my recommendations because the country is currently not part for this regional agreement.
It's too early to say, but it's a way to put pressure on states and we need to monitor the way in which they implement and comply with its provisions. We are pushing for more states to sign it and more actors to be involved in it.
This interview, which was condensed and edited for clarity, was conducted in Bogota in December 2018.